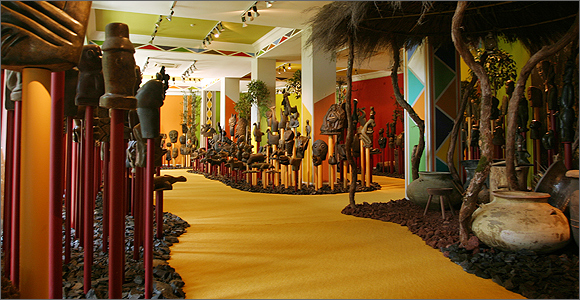 Zimbabwe stone sculpture is a contemporary African art that started in the early 1960's. It has become one of the most prolific art movements in Africa and some artists have become household names in the international art scene. The sculpture movement is still flourishing and has already entered its third generation of artists. The artists' community in Tengenenge has been part of it since 1966.
The Berardo Collection of Zimbabwe stone sculpture is a historical collection. It embodies a closed chapter in the history of that art with works by artists of the first generation. Most sculptures date from the very first years at Tengenenge. Some of the artists have made it internationally. Names like Henry MUNYARADZI or Bernard MATEMERA and, to a lesser extent, Fanizani AKUDA, Sylvester MUBAYI or Anderson MWALE are familiar to all those who take an interest in contemporary African art. The Berardo Collection holds some their earliest works.
Many other artists are also represented in this particular collection like the young sculptor Apitoni KANYENGA with his chunky heads. A special point of interest are the sculptures by women artists. The female sculptors at Tengenenge sign under their own name which means they had an individual status as artist. In the case of Erina FANIZANI, it becomes obvious that she has provided her husband Fanizani AKUDA with the style he became famous for later on.
For more information visit :
www.montepalace.com