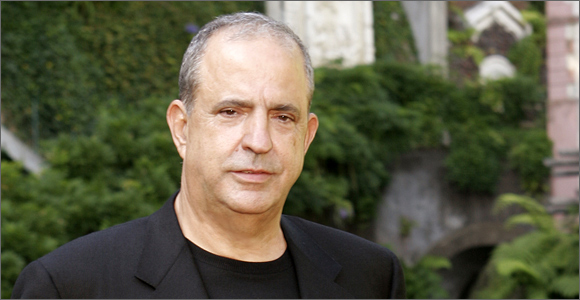 The Man Behind The Collection


The multifaceted personality of José Manuel Rodrigues Berardo is inevitably dazzling. This man with business interests all over the world, a pioneer in a number of sectors, an art collector and philanthropist, came into this world on 4 July 1944 in conservative Madeira. He was born in Santa Luzia, Funchal, the youngest of seven children and the second to be given the name Berardo after the family lost all its savings when Banco Henrique Figueira failed in 1931. By 1939, the Gomes family was already back on its feet after this financial setback and moved to a new home in the parish of Santa Luzia, where Jorge and José were born. In a real break with the past they were given the surname Berardo, one of the family names that had never been used before.
He was the son of Manuel Berardo Gomes, a respected, highly principled man who could not read or write but was able to do sums in Roman numerals at breathtaking speed, and Ana Rodrigues Gomes, a deeply religious housewife from Monte. José Manuel Berardo feels that his life is a special gift from god, as his mother was 46 when he was born.
Although the family was not particularly well off, it progressed and Berardo completed primary school and passed the high school admission exam. He first attended Externato de São Luís, a day school run by the Veríssimos, an upper-middle class family who sponsored education for the disadvantaged until the 1970s, and then Escola Masculina da Pena, both in Santa Luzia. Although he never failed a year, he says that all he learned was reading, writing and arithmetic. Playing in the streets was much more fun. He whiled away the time learning to swim on banana-tree trunks, playing cards into the small hours under a street lamp, listening to old men's tales and even played a little football.
At the age of thirteen and a half he got a job at the Madeira Wine Company, where his father worked as a batcher, along with his brother Salvador. The three of them, José Berardo, his father and brother worked a total of 112 years for the company. Meanwhile, in addition to working with wines, which were to become a passion of his, he went back to school. For 18 months he attended an evening course in accounting at the Jofre Ramalho School in Rua da Carreira, one of Funchal's main streets.
At the Madeira Wine Company, he started out labelling bottles but was soon promoted to office boy and had to serve tea and coffee at Board meetings. He got to know ships' crewmen and began to sell goods from abroad to the company's directors and was soon earning more than his father.
But this was not enough; he had higher aspirations. The arrival on the island of wealthy emigrants from Brazil, Venezuela and South Africa inspired José Berardo to try his luck in another country.
As a teenager, he often went up to the top of the mountains to catch a glimpse of broader horizons. The higher he climbed, the broader that horizon was, but he still felt trapped. If he wanted his dreams to come true, he would have to go beyond his horizon.
Against his father's will, he chose Africa, as it was the only continent where he had no family. His idea was to begin a completely new life and do things his own way.
He waited until he was 18 to go off in pursuit of his dream and chose South Africa, even though he spoke no English. It was 1963 when he set sail with another 40 young men his own age on the Moçambique, a ship belonging to Companhia Colonial de Navegação. People thought they were soldiers being sent to the colonial war, but in fact they were awaited by hundreds of women, as a result of Salazar's prohibition of brothels in Portugal. The voyage to Lourenço Marques, now Maputo, turned out to be quite memorable! After several calls at Portuguese ports, the 40 Madeirans arrived to find that their papers had been cancelled. José Berardo was the only one who did not cross illegally into South Africa, preferring to wait six months for his papers so that he could enter the country legally that he would later consider his adoptive homeland. He kept busy while he was waiting and found a job at an Italian's shop, where he soon began to make money selling domestic appliances to the Indians.
After this forced stop, which turned out to be quite fruitful and during which he actually won several prizes as a dancer, he set off for Johannesburg in November 1963. On arriving in the city, he still had to travel another uncomfortable 400 kilometres in the back of an open truck to start working as a vegetable picker. On a faraway farm in Orange Free State, he began another adventure, adapting to the new work, culture and customs. It took him four years to learn Afrikaans and English. He did very little farm work, as he was soon moved to the shops and it was not long before he was made manager. His boss wanted him to stay, but his destination was the big city of Johannesburg. With the help of Mr Costa, a Portuguese vegetable merchant, he managed to reach South Africa's largest city. He soon formed a partnership with his boss and began to sell vegetables in bulk to the miners' canteen kitchens.
As José Berardo's business grew in Johannesburg, so did his affection for a local girl, Carolina Gonçalves, the daughter of Madeirans José Gonçalves and Alzira Mata Gonçalves but born in South Africa. A passion that has lasted until today was born in 1969. It was this traditional case of love at first sight that took Berardo away from a decidedly bohemian existence.
The rock and roll contests, Club 505, endless nights of live music, ruses to get into bars, Barbarella Disco, of which he and a friend were members at one point, and many other adventures of a night-owl youth were all left behind.
1969 witnessed a change in Berardo's priorities. After marrying Carolina, first came his work, then his family and finally his friends.
The couple's first child, Renato, was born in 1971. Their firstborn studied management at Huron University in London and is now his father's right-hand man in many Berardo group companies. Their daughter Cláudia was born 13 months later. After completing her studies in London, she has devoted herself to studying and publicising art collections, a passion shared by the whole family.
With his own family and social status, Berardo continued to develop his own, albeit small, businesses until 1978. Meanwhile, his sale of foodstuffs to the Johannesburg mines and his contact with the mining sector drew his attention more and more to old, abandoned mines. Where some saw only rubble, Berardo saw gold. And he was right. Recycling gold-mine slag seemed economically viable and he did not hesitate. He bought abandoned mines and started to operate them again using new technologies.
His decision to operate in this sector caused friction with family and friends, who thought it was a business for multinationals. But he refused to be deterred and had a strong feeling that the price of gold would soon be going up. In fact, not much later, he was considered one of the largest owners of gold-producing surface slag reserves in Johannesburg.
Just as he had predicted, the price of gold rocketed and multinationals were soon proposing joint ventures. Berardo supplied the raw material and they reactivated the refineries that had closed down due to a shortage of slag.
His first big business opportunity arose at this stage in his life. Set up on a property that belonged to Harry Oppenheimer, a prominent South African businessman and one of the world's richest men, he offered 40% of the profits to Oppenheimer and kept the remaining 60% for himself. This was how he made his first million, a feeling he would never forget.
He steadfastly resisted pressure from the multinationals and entered into joint ventures on conditions that he stipulated in advance, guaranteeing him instant success.
After becoming the owner of four gold refineries, he moved on to diamond mines. He entered the world of banking and then the stock market. Drinking in the teachings of Óscar Gatez, a Jewish lawyer with whom he became close friends, he soon learned to trade on the stock exchange. One legacy from his friendship was a motto that has governed his life: "Every investor has the obligation to do good in his community". It was on the basis of this principle that, years later, the Berardo Foundation would appear as a private charity working mainly in the fields of education, health and culture.
Business opportunities kept on arising one after the other in South Africa. After gold and diamonds came oil, marble and granite, telecommunications, computer chips, paper and even the cinema, employing more than 10,000 people.
President of the Bank of Lisbon and South Africa, perfectly integrated into the community and convinced that South Africa was the land for his family, he was tempted into the world of politics. He eventually accepted an invitation to join the South African President's Advisory Council, which consisted of 21 personalities, of whom he was the first and only foreigner.
Convinced that he could help end racial segregation, he came out against Apartheid and joined the National Party with the aim of putting an end to the regime. He played an active role in the country that had accepted him as one of its own and fought against one of the largest cases of discrimination the world has ever known.
In 1979 he was appointed Commander of the Ordem do Infante D. Henrique by the President of Portugal, General Ramalho Eanes. The honour was awarded to the entrepreneur, this self-made man, for his contribution to the Portuguese community in South Africa over many years.
He had been an inveterate collector since his childhood and it was in the early 1980s that he began his first art collection, although his first purchase was in 1969, when he bought a print of the Mona Lisa in a furniture shop in Johannesburg, thinking that it was an original. He was self-taught and his interest in the arts was born in South Africa, when he began to visit museums, galleries and homes of friends with interests in culture. Dazzled by works of art that were a novelty to him, he organised his first collection himself. He concentrated on pre- and post-apartheid South-African works and the idea was to gather testimony to the art produced during the dictatorship and the new freedom and put together a collection reflecting the political and social views of the time. This cultural involvement awakened another passion, which was nature.
In the second half of the 1980s, he decided to diversify his business locations. He made many trips to Canada, Portugal and Australia, where he expanded the mining business. In Canada his businesses included mines, natural gas and wines, among others.
Meanwhile, there was constant violence in South Africa. A visit by Alberto João Jardim, President of the Madeira Regional Government left its mark on several businessmen including Berardo, who felt the call of his native land. Berardo and his friend Horácio Roque bought a tobacco company in 1987, bringing them closer to Portugal in general and Madeira in particular.
His return to the island can be put down, in particular, to an episode with the President of the Regional Government and to the family that Berardo left behind. He was particularly close to his brother Jorge, who was the only family member at Berardo's wedding in South Africa in 1969. Jorge, currently director of the Berardo Foundation and several group companies, was a great help in achieving some of his personal and business dreams.
He then bought Quinta do Monte Palace in Funchal, which had been confiscated and long abandoned. On 12 November 1988, the José Berardo Foundation was set up and he donated the Quinta to it. He had now created the right conditions to harness the energy and means needed to restore the architectural and environmental heritage.
His fascination and passion for nature spurred Berardo and his family to devote themselves to this great work with the assistance of specialists. Inspired by the history of Quinta do Monte Palace and enhancing the romantic nature of its origins and architecture, he fulfilled the dream of taking a dilapidated garden and transforming it into a tropical garden. The idea of the tropical garden, like the botanical gardens that were so popular in the 19th century, inspired a dream of different worlds where we could see not only an overview of Madeiran biodiversity but also collections of botanical specimens from different continents and even thousand-year-old olive trees from areas that would later be flooded by the Alqueva Dam. The Madeiran flora was joined by plants from Asia, azaleas from Belgium, heather from Scotland, a rare collection of cycads from South Africa, western and eastern sculptures and a collection of 16th to 20th century tiles and the Monte Palace Tropical Garden opened to the public on 5 October 1991. Today it is an essential part of our lives and historical heritage. It is an exuberant place, a tribute to the Portuguese discoveries with items from the four corners of the earth, which has been enlarged over the years.
His foundation also awards study grants to Madeiran students taking university courses outside the Madeira Archipelago. In addition to social, charitable, educational, artistic and scientific activities, it is also particularly committed to safeguarding and preserving works of art and protecting the environment.
The 1990s brought more businesses in Portugal. He acquired media shares and shareholdings in the tourism, real estate, food and tobacco sectors. He did not neglect the financial sector and founded the bank Banif with Horácio Roque. Revisiting an old passion, he invested in farming and wine production. With the accentuated growth and diversification of his investments, Berardo surrounded himself with people he could trust. On returning to Portugal, he was constantly accompanied by his friend, director and lawyer André Luiz Gomes.
However, the 1990s were marked essentially by the growth of his collection of modern and contemporary art. With the help of Francisco Capelo, who was in charge of acquisitions and initial organisation, the collection began to take shape. The original idea was to set up an international contemporary art collection along traditional historiographic and chronological lines as a methodical illustration of the successive currents, trends and lines of research and work in Europe and the United States from the end of the Second World War to the present day. Organising the collection in chronological blocks by tendency would be the normal structure of an art history book in the second half of the 20th century.
The collection would therefore first focus on works from the post-war period beginning in 1945, given the substantial changes in main centres of artistic production and the appearance of new movements coming mostly from the United States and influencing European art.
The choice was an extensive, comprehensive chronological collection rather than one based on personal taste, a more specific, theoretic point of view or greater specialisation in a particular area, trend or current. Berardo's idea was not to close doors in the collection, but to leave it open to different choices, interpretations and outlooks. This choice was mainly due to the collection's necessarily museological nature and the didactic importance that it would take on in Portugal.
The collection later extended its time frame to the dawn of Modernism. One of the latent designs of the Berardo Collection right from the start was to cover the main movements and their protagonists, providing an articulated reading of the different original currents from different European and American countries and including the artists who marked the period from the beginning of last century to the latest developments in contemporary artistic creation.
The works were purchased at auctions or from galleries. In some cases, when certain galleries were experiencing financial difficulties, it was even possible to buy works from the gallery owners' personal collections, which explains the quality of the Arte Povera section. In other cases, gallery owners managed to get access to works from artists' own private collections. The collection today has special relationships with galleries all over the world.
The collection was seen for the first time in Portugal at Galeria Valentim de Carvalho in Lisbon in 1993. Boasting emblematic works by names such as Arman, Balthus, Lúcio Fontana, Nicolas de Staël and Vieira da Silva, it was still a pale reflection of what the collection would become. This first showing was basically an attempt to sound out the public's reaction.
Four years later, an agreement was signed with Sintra Municipal Council, represented at the time by Edite Estrela, and the collection went on show at the old Casino da Vila under the name Sintra Museu de Arte Moderna – Colecção Berardo. It was here in one of the town's historic buildings specially adapted for the purpose that a series of museum-type exhibitions began.
Also in 1997, another, 10-year agreement was signed allowing exhibitions at the Belém Cultural Centre and the use of part of its reserves.
Considered by Art Review as one of the most influential people in the art world, Berardo's main goal was to bring the general public into closer contact with art in the hope that art collecting could be shared by all as a way of enriching human activity and fostering a taste for and enjoyment of art.
Launching the Berardo Collection was one of his priorities in life and it was with great satisfaction that he saw it classified as one of the best private collections in Europe by the Independent in an article entitled "Beyond the Guggenheim" of 11 August 1998.
His passion for collecting was an old one dating back to his school days. A compulsive collector since his childhood, he began to hoard stamps, matchboxes and postcards of the transatlantic liners that called at Madeira.
Curiosity is perhaps the trait that best characterises all collectors and it is certainly no coincidence that the word "curiosity" is also used to describe a rare object that attracts attention and interest.
If it is curiosity that fuels the mind and inspires the collector, there can be no doubt that the things that are collected, that are chosen as the object of the collector's desire and passion, are closely linked to the expectations of a particular age or what others expect of us. In a way, a collector tries to bring together the works that others would also like to find and own. Without always realising it, a collector help to make other peoples' dreams come true. It is this relationship between one person's dream and those of others that charts the course of any collection and guarantees it a place in the community.
Thanks to his passion for art and taste for collecting, Berardo set up other collections including tiles (16th century to the present day), original posters, furniture and Art Deco, contemporary sculpture from Zimbabwe, Portuguese pottery, gems and minerals and Portuguese pewter, all of which are on permanent or temporary display at national and international institutions.
It was fascination and awe that inspired José Manuel Berardo to put together his collections and acquisitions. This is why he has never sold a single work from his collections, as his activities in the field of art and culture are the only ones of many that have nothing to do with financial investments in the strict sense of the word.
Without his intervention, some of the pieces that he owns would have been forgotten or they would have lost that added significance that a collection offers in a network of meanings that the collector slowly weaves with the help of researchers and scholars. Others would simply have been drawn away even more from their original contexts because they were bought by collectors from richer, more powerful countries that during centuries of domination have deprived the people of their most prized possession, their identity, and were isolated in an unreachable setting.
His dedication to culture, the arts and their dissemination earned him the honour of Grã-Cruz (Grand Cross) of the Ordem do Infante D. Henrique from President Jorge Sampaio on 5 October 2004. A year later, on 2 October 2005, he was made Chevalier de la Légion d'honneur from Ambassador Patrick Gautrat representing President Jacques Chirac. This decoration was given him in recognition of the cultural relationship that he had maintained with France for many years. He laid on many exhibitions in France and at the French Embassy in Portugal.
But his greatest ordeal was with the Portuguese government. After the opening of the Sintra Museu de Arte Moderna – Colecção Berardo, he fought for a museum of modern and contemporary art in Lisbon. He felt that the Portuguese capital should have a proper place where the public could enjoy modern artistic creations. Government after government, minister after minister, his collection of modern and contemporary art was still without a home. The collector persevered with several governments for a decade. He knew what he wanted and he eventually got it, a museum with his name, a foundation managed in partnership with the state, the loan of his works for a ten-year period renewable by mutual consent, a place to install the collection, in this case the Exhibition Centre at Belém Cultural Centre and the possibility of continuing to show his collection all over the world. It was not an easy negotiation for the government, but Berardo, on the other hand, did not want to set up just another private museum, although he obviously had the resources. That was not his aim. He wanted it to be a museum for all the people. He wanted everyone to feel it as he did. And the best way was through the state.
The Berardo Collection of Modern and Contemporary Art took 10 years to take its shape, but on 3 April 2006 the agreement setting up the Modern and Contemporary Art Foundation – Berardo Collection was signed and the works were installed on a ten-year loan at Belém Cultural Centre. The longed-for ceremony was attended by Prime Minister José Socrátes and Minister of Culture Isabel Pires de Lima. The approved model was more or less the one idealised by the collector in 1996, when he began talks with Manuel Maria Carrilho, Minister of Culture at the time.
The Berardo Collection is located in a special area of Lisbon. Belém is a very important tourist quarter for the country, and the diversity of cultural attractions that it has to offer is an added advantage. The idea behind the agreement was always to make the collection available to the Portuguese and display the works in a dialogue with other national and foreign collections and artists.
José Berardo devotes himself to art because culture is a pleasure to him. But because financial resources are needed to make dreams come true, he does not neglect the business world, which just like culture is a garden that requires constant tending.
His latest investment is in the energy sector, involving a volcanic power station, a project currently restricted to Nicaragua, but which may extend to the whole of South America. Remaining loyal to non-polluting markets, he has continued to invest in tourism associated with culture as the best way of creating jobs.
South Africa marked him for ever, from his accent to his wise attitude to his businesses. Nonetheless, he speaks with more interest and enthusiasm about his companies than about his investments. Forty years on, the lessons from his friend Óscar, who taught him to invest in the stock market, continue to bear fruit. He will never forget the wise words of his old friend: "Never fall in love with paper or your business".
José Berardo confesses that the secret of his success is always being on the lookout for good opportunities. No detail escapes him. He is a good-natured man whose roars of laughter can be heard everywhere. Constantly alert and always absorbing information, he operates on trust. His family is one of the keys to his huge success and has been beside him every step of the way. While Carolina is his advisor and confidante, his son Renato is his right arm, a perfect businessman. Imbued with the spirit of their father, the family's interest in art and nature has revealed itself over time.
Renato Berardo is one of the driving forces behind the construction of an oriental garden at Quinta dos Loridos, Bombarral. Tons of stone have been brought to the estate to pay homage to a millennium-old culture. The project began in 2001, when Berardo, deeply shocked by the destruction of the giant Buddhas in Bamyan, Afghanistan, embarked on yet another of his dreams, a vast oriental garden, which his son has now adopted.
Years before beginning this plan at Quinta dos Loridos, when Quinta do Monte Palace was being restored, his passion for nature led him to replant 79 hectares of forest destroyed by fire in Madeira and buy around 100 hectares of Laurissilva forest, classified as World Heritage, with no purpose other than to preserve it.
Work done as a fruit of our pleasure in protecting green areas and sharing our love for them is also proof that what we receive only belongs to us temporarily and should remain available for all to enjoy after we die.
Nature's beauty has always had the gift of moving him and inspiring a feeling of peace and tranquillity within him. He likes to cultivate and enjoy plants as they grow.
He has a passion for art and knows that only nature can offer him new colours from a different palette. Seduced by its strength, he is dazzled not only by the physical part but also by the sounds, aromas and good feelings that it conveys. Trees are a strong symbol of peace and remind him of timeless time, ancestral tribes and the longevity of wisdom.
For Berardo, looking at a tree brings him the power of a direct connection with nature, which is the pure manifestation of beauty. Peace is born of beauty. It is enough for him to look at a tree with his eyes full and his mind empty to understand that it is the great master of peace. He believes that continued life on earth depends on our awareness of the need to protect trees and therefore nature as a whole.
Just like all rich and famous people, Berardo has his contradictions. On his 60th birthday, he wanted to skydive just to see what it felt like. He jumped, but it was nothing compared to the buzz, which he says is one of his vices. Although the parachute jump was interesting, it did not give him more of a buzz. Apart from watching action movies and dancing for hours on end, no other interests are more important than his family and his work.
The sun never sets on the "Berardo empire". He has businesses all over the world, paintings on display at a number of museums and investments on the Lisbon, New York and Tokyo stock markets. He doesn't carry lots of papers with him but he is always well-informed. No detail escapes him. He visits his companies, museums and gardens regularly and likes to sit down with his employees in conference rooms, a corner of his gardens, a winery or an art exhibition. He likes to feel the heartbeat of the institutions that he heads.
In 2007, he launched the first takeover bid for a football club in Portugal. He wanted to buy 30% of the shares in Sport Lisboa e Benfica, but only managed around 1.5%. The same year, he was awarded the Medalha Tiradentes by Deputy Jorge Picciani, President of the Legislative Assembly of the State of Rio de Janeiro. The medal is awarded to civilians and armed force members of great personal value who have rendered important services to the state. Berardo received the medal for his contribution to culture. On the same occasion, in May 2007, he was made an Honorary Citizen of the State of Rio de Janeiro.
The big question when it comes to José Manuel Berardo is how a man who many years ago bought a reproduction of the Mona Lisa thinking that it was a pretty original became an important world collector and great art connoisseur. Meticulous and tough, he is a man of strong connections, an image that leaves its mark, someone who always tries to live life with pleasure. Pettiness is not in his vocabulary. In South Africa, he learned to see the big picture, because when you look at the forest and not the tree, small issues do not affect you. The rest is a matter of priorities, valuing the positive and forgetting the bad things.
Under a strong impetus laden with intuition, a quality that has become more acute in the areas that are dear to him, combined with the vision and tact that he shows in the business world, we find a spirit that is sensitive to beauty, be it landscapes and gardens or works created by artists.
And this open-ended story began on 4 July 1944 with a man's desire to go down in history starting from the principle that nothing really belongs to us in this life.